He is former Pakistan Navy serviceman
Responsible Author: Aurangzeb Akbar | London, 12/28/2020, 23:34 Time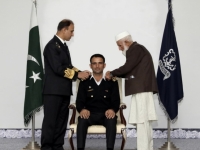 USPA NEWS -
Chief of the Naval Staff Admiral Muhammad Amjad Khan Niazi has conferred the rank of Honorary Lieutenant on renowned cricketer Fakhr Zaman Kopak on the basis of his outstanding performance in the field of cricket and his affiliation with the Pakistan Navy. In this regard, a special function was held at the Naval Headquarters.
Fakhr Zaman is a former Pakistan Navy serviceman. He joined the Pakistan Navy's Operations Branch in 2007 as a Sailor. Early in his service, his dedication to cricket and his invaluable talent were appreciated. Fakhruzzaman represented Pakistan Navy in many competitions and won many awards for Pakistan Navy. Fakhruzzaman also played his first international match from the Pakistan Navy platform in 2012 and was named the best player of the tournament at the International Defense Cricket Challenge Cup 2012 in Australia.
Peoples sets/ties NCAA Bowl Records
Responsible Author: Charlie Krausse | Chesterfield, VA, 12/22/2020, 16:25 Time
USPA NEWS -
Myrtle Beach. Home of salt water taffy, air brushed t-shirts, mini-golf, alligator wrangling and now college bowl games. In the inaugural Myrtle Beach Bowl, Appalachian State ran all over the North Texas Mean Green. Literally. Leading the way was sophomore runningback, Camerun Peoples of the Mountaineers. Peoples rushed for a NCAA bowl record 319 yards and tied another bowl record of 5 rushing TDs. A record previously held by Barry Sanders (Oklahoma State) and Kareem Hunt (Toledo).
"Barry Sanders. Wow," exclaimed Peoples. "That's some good company." Peoples has the build, structure and running style of another NFL great – Derrick Henry. At 6'2, 210 pounds, the power back had 23 carries on his record setting night.
| | |
| --- | --- |
| | Daren Frankish |
| | RAHMA-SOPHIA RACHDI |
| | Ruby BIRD |
| | Yasmina BEDDOU |
| | Aurangzeb Akbar |